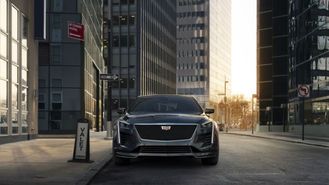 While one would assume that snow, rain, and dirt would be major issues for the sensors and cameras that help a car operate semi-autonomously, it turns out that the sun is the real culprit. According to Automotive News, Cadillac's Super Cruise system can become perplexed on sunny days.
Super Cruise, which is offered on the CT6, is billed as the first hands-free driver-assistance feature. Using various sensors, cameras, and LiDAR mapping technology, Super Cruise leverages lane keep assist with lane departure warning and adaptive cruise control to be one of the more capable semi-autonomous systems available. Unlike other systems, Super Cruise is hands-off, using head tracking software to ensure the driver's eyes are looking ahead. Super Cruise only works on the highway.

Despite being a high-tech piece of equipment, Super Cruise still has its issues – the main one being sunlight that can blind the infrared camera that sits on top of the steering wheel column, claims Automotive News. The camera is in charge of monitoring how attentive the driver is.

"Just as the sun makes it hard for you to see what's ahead of you, it does the same thing for a camera," said Sam Abuelsamid, an engineer and Navigant Research analyst. "It is a challenge."

As someone that attended the CT6 press launch that involved a 900-mile road trip back in 2017 when Cadillac introduced Super Cruise on the sedan, I didn't encounter any of the issues outlined in the article. But the outlet claims that this issue is something other automakers are facing, too. Cadillac's fix, as the outlet claims, involve "significant changes" that will be established in the next-gen system's hardware.


Automakers continue to come out with high-tech driver-assistance features that border on being semi-autonomous every year. Tesla currently offers Autopilot on all of its vehicles as an option and what it claims as "full self-driving capability" as a more expensive option. The electric automaker's system is one of the, if not the, most complex systems, as it can complete lane changes on its own, park independently, be summoned, steer, accelerate, and brake without any inputs from the driver.

Nissan has ProPilo Assist, which is available on the Rogue and the Leaf. The system only works on the highway and combines adaptive cruise control and lane-keeping assist to ensure the vehicle maintains a safe distance from other cars on the road, while staying in its lane.

At the moment, the majority of semi-autonomous systems on the market are advertised as ways to make the mundane aspect of driving on highways a little more bearable. Not to mention safer.