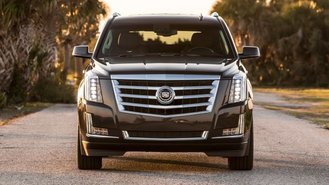 Yes, the economy is doing better. So much so that dealers are having a tough time keeping the newly-redesigned $74k+ 2015 Cadillac Escalade in stock. Both demand and pricing have been extremely strong, and it's well-warranted. The new flagship luxury SUV is better than its predecessor in every way imaginable, including fuel efficiency. The new 2015 Escalade gets 15/21 MPG while still producing 420 horsepower from it's mammoth 6.2L V8.
That includes the popular $90k+ Platinum Trim which includes creature comforts like a rear-seat entertainment system and power-retractable assist steps to make getting in and out of the butter-smooth hand-stitched leather seats all that much easier.
Get Prices and Deals on the 2015 Cadillac Escalade >>
An additional 2,000 Escalades will be produced on top of the 32,000 units already scheduled for this year.
Dealerships across the country have pleaded with parent company GM to boost production because its customers have had to wait upwards of a month to take delivery of the new ultra-luxurious SUV. And well, nobody likes to wait, especially for something so beautiful.