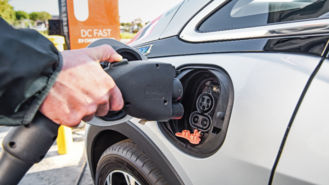 Before the end of 2018, General Motors announced plans to end production of six cars. The plug-in hybrid Chevrolet Volt was one of the unfortunate vehicles on the chopping block. Chevrolet may have introduced a real competitor to Tesla with the all-electric Bolt and a viable option to curb range anxiety with the Volt, but it was Cadillac that was one of the first to come out with an electric offering with the two-door ELR. While Chevrolet has become the crown jewel for GM when it comes to EVs, it sounds like a switch back to Cadillac may be in the works.

According to Automotive News, Cadillac will be the brand to carry GM's torch when it comes to electric vehicles. The outlet reports that Cadillac will be the first brand to get an EV to feature the American automaker's new platform, which will supposedly be called the BEV3. The upcoming platform includes a variety of components including a battery system and mechanical parts, and will be found in a lot of vehicles. GM does have plans to come out with 20 new electrified or fuel cell-powered cars by 2023.

It doesn't sound like GM is in the mood to share the BEV3 platform across its other brands, either, as the outlet claims that Cadillac will hold onto the modular architecture for quite some time.


Needless to say, this is a large departure from GM's current EV portfolio, which puts an emphasis on affordable electric options. As we alluded to earlier, Cadillac tried to create a niche market with the upscale, two-door ELR back in 2013. Unfortunately, with a price tag of $75,000 and a range of roughly 37 miles, it wasn't exactly affordable or useable. Three years later, the ELR went out of production, forced out by the cheaper and arguably more usable Tesla Model S.

The timing to switch its EV program over to Cadillac instead of Chevrolet makes plenty of sense for GM. The automaker has been struggling for a long time to position Cadillac as a full-on luxury and high-tech brand. While consumers are finally accepting the idea of trading their gas vehicle in for an electric offering, there aren't too many luxurious options to choose from. Tesla, BMW, and Jaguar have electric offerings, so if Cadillac were to put out a competitor in the near future, it would be in a small subset of the market.