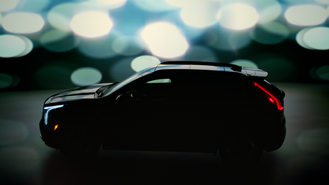 Cadillac is finally expanding its lineup of available crossovers with the addition of the XT4. The automaker teased the new crossover ahead of its official debut at the New York Auto Show with a commercial during the 90th Academy Awards. The XT4 will slot below the XT5 and Escalade, the only crossover and SUV Cadillac currently offers.
The XT4's design will likely resemble that of other vehicles currently in the Cadillac lineup. The headlights sweep up and over the front fenders, flanking a grille that is taking cues from the Escala concept unveiled in 2016. Tall taillights that reach toward the roof are at the rear, giving the XT4 a dose of Escalade.
We're expecting the XT4 to feature GM's 2.0-liter, turbocharged four-cylinder, while a nine-speed automatic will send power to either the front or all four wheels. The new crossover will also introduce a new interior design. Physical buttons will replace the bank of touch-sensitive controls found in current Cadillac vehicles.
Cadillac saw sales decline from 2016 to 2017, moving 13,566 fewer vehicles last year. It was the automaker's worst year since 2012. When the XT4 hits dealerships later this year, it should help bolster sales numbers as Cadillac continues trying to adapt to the crossover-heavy market.