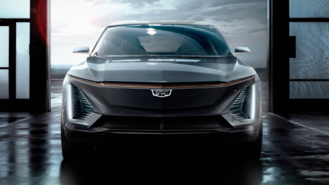 Shortly after General Motors announced that Cadillac would be the brand to lead its electric-vehicle charge, the luxury brand revealed a preview of its first electric SUV at the Detroit Auto Show. While Cadillac didn't unveil an actual concept or vehicle at the auto show, the automaker displayed some renderings of the machine.

Cadillac's still working out a lot of the electric SUV's details, as the vehicle's name, range, powertrain, performance, and price are still up in the air. In fact, besides knowing that it's an electric SUV, there's not a lot to go off of. Cadillac's announcement, then, is just to reaffirm how serious GM was when it told everyone that Cadillac would become the electric-forward brand.

What we do know about the SUV is that it will be based on GM's new BEV3 modular platform. So while the first vehicle we'll see with the platform is a SUV, there's a good chance Cadillac could make a sedan, coupe, or another SUV with the same underpinnings. Front, rear, and all-wheel drive are all possible configurations with the platform.
The electric vehicle is just one of many cars that Cadillac is planning to debut. The automaker will reportedly come out with approximately six new vehicles from now until 2021. The unnamed electric SUV you see in the pictures is expected to be released in 2022. With Cadillac switching gears and turning into an electric-forward automaker, there's a high chance that a lot of those vehicles could have some sort of electrification.

While GM made it clear that the BEV3 platform would solely be Cadillac's for the near future, the underpinning could be shared across the entire GM fleet of brands. Last week's announcement had a slide depicting roughly 11 vehicles that could use the BEV3 platform. Everything from large, seven-passenger SUVs to small crossovers are possibilities.