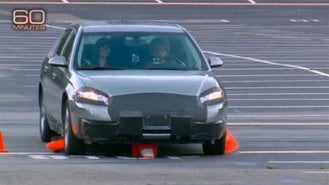 With each passing year, new cars continue to push the envelope of what was previously thought impossible. Today's cars harnesses the power of the internet for advanced connectivity. As cars become a part of the "Internet of Things," though, hackers have begun to find security vulnerabilities that could spell disaster for motorists if they are not addressed.
Reporting for 60 Minutes, news anchor Lesley Stahl saw firsthand just how easy it can be for hackers to take control of today's connected cars, all without a direct hard-wired link to a vehicle. You have to see the video above to believe it. At the wheel of a late-model large sedan, Stahl sat powerless as a technician with a laptop remotely took control of the car's windshield washers and accelerator pedal, even going so far as to disable the brakes completely.
As automakers entice car buyers with cutting-edge tech such as automatic emergency response and in-car WiFi hotspots, the link that allows back-and-forth communication with an outside network can be compromised. Gaining access to a car's infotainment data stream allows a hacker to insert malicious code targeting more-vital functions, like remote start mechanisms, door locks and even steering.
Today's automakers are pouring resources into making their cars more secure. When General Motors found vulnerabilities in its OnStar system, they immediately hired a new team to beef up security protocols, creating a "white list" of approved types of computers, like service department diagnostic systems, that OnStar can interface with.
Today, the chances of your new car being hacked on the road are next to nil. As in-car tech becomes more powerful and complex, though, now is the time for automakers and regulators to treat security as a serious and pressing issue.