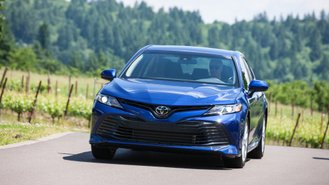 Overall automobile sales may be down in 2019, but consumers continue to lease vehicles at an all-time record. Edmunds recently put out its 2019 Automotive Trends Report outlining midyear updates and found leasing has hit a record high since the group began tracking the data in 2002.
According to the outlet's data, lease penetration hit 32.2 percent through May 2019. Last year, lease penetration was at 31.5 percent. Just like with new car purchases, the price of a new vehicle lease has increased in 2019, as Edmunds claims that consumers leasing a new vehicle are paying $1,965 more than they did back in 2016. The average monthly payment of a new vehicle lease in 2019 is up to $536, an increase of $46 from three years ago.
Edmunds' findings mirror ours, as our observations reveal that lease payments are up by $40-$50 from a few years ago in the midsize sedan and compact SUV segments. While $199 leases for vehicles like the Toyota Camry were once fairly commonplace, the same models are now featured at $249 or higher. The outlet claims that the cost of leasing is on the rise, as in 2019, leasing a new vehicle cost $19,960. That figure is up from $19,342 in 2018 and $18,700 in 2017.
When it comes to what kind of cars consumers are leasing, luxury vehicles continue to be popular. Luxury compact cars are the most leased vehicles, as they account for 68 percent of leases. After that, it goes luxury subcompact cars (64 percent), large luxury cars (56 percent), compact luxury SUVs (53 percent), midsize luxury SUVs (53 percent), and midsize luxury cars (51 percent). Large cars account for the fewest number of leases (18 percent).