With the coronavirus continuing to spread around the United States and automakers bringing facilities to a screeching halt, consumers aren't exactly running to dealerships to take advantage of one of the many low financing deals that are currently available. But of those that did purchase a car in March, the majority of them financed their new vehicle at a slightly higher interest rate and financed it for a much longer term than usual.
For the first time on record, Edmunds found that more consumers signed up for loans over 70 months. According to data the outlet collected, 35.3% of borrowers purchased a car with a loan term of 73 to 84 months. In February, that figure was 32.8%. That's a startling number and it's even more alarming when you look at how high monthly payments are despite the long term of the loan.
In March 2020, the average monthly payment was $573, $20 more than last year. The amount financed was higher than last year too, $34,052 compared to $31,962. That figure probably has a lot to do with the type of vehicles consumers are buying, as prices for pickup trucks and SUVs has risen recently. Consumers are also putting less money down than before – $4,008 versus $4,217 from last year.
Longer term rates, large amounts of money financed, and relatively high APR rates mean consumers are on the hook for more money than before. Using the figures above and using a 5.8% APR rate from Edmunds' data, consumers, on average, are looking at paying a total of $40,453.80 for a new vehicle loan in March 2020. For consumers shopping for a vehicle in March 2019, the average APR rate was higher at 6.4%, but the other factors meant a lower overall total of $38,488.8.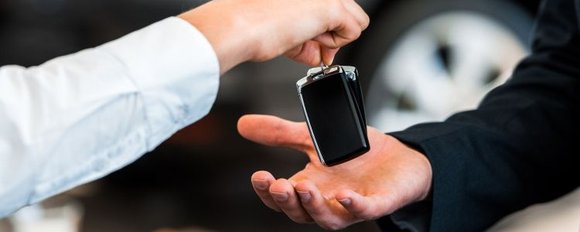 Speaking of APR rates, Edmunds found that the interest rate on a new vehicle purchase went up slightly in March. The average APR rate for a new vehicle was at 5.8%, up slightly from 5.6% in February. The number of consumers, though, that financed their new vehicle at 0% went up to 4.7% in March. In February, that number was at 3.6%.
It was a similar story for used car buyers in March. Used car loan terms went up to 67.8 months, up from 67.6 months from last year, APR rates went down slightly to 9.1% compared to 9.5% in 2019, and the average monthly payment rose by $6.
To help ease some of the tension caused by the coronavirus, numerous automakers have announced enhanced incentives, including 0% financing specials on new cars. Chrysler, Dodge, Jeep, Ram, Ford, Lincoln, Chevrolet, Buick, GMC, Cadillac, Hyundai, Genesis, Kia, Nissan, Infiniti, Subaru, and Volkswagen are all offering 0% financing in April.
While these 0% deals popped up quickly, consumers aren't too interested in taking advantage of them. "Automakers reacted quickly to the coronavirus crisis with attractive incentive offers and payment programs, but these, unfortunately, appeared to fall on deaf ears," said Jessica Caldwell executive director of insights at Edmunds.
Another major factor that could explain why consumers aren't taking advantage of 0% financing deals at the moment is because of the massive number of Americans that have become unemployed because of the coronavirus outbreak. According to the New York Times, 6.6 million people applied for unemployment benefits last week. Roughly 10 million Americans are currently out of work. Last week was the worse week for unemployment filings in the country's history since 1982. With those kinds of unemployment figures, it's going to take quite a long time to see sales rebound.
If anything, we expect to see term lengths and increased loan amounts grow in the coming months. With poor public transport, Americans rely on cars as a necessity to get around. Despite everything that's going on with the virus and unemployment, people still need cars. Unless more consumers can take advantage of 0% financing deals this month, things are on track to only get worse.