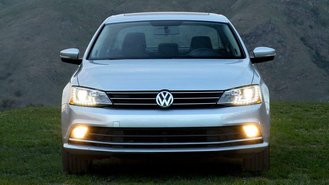 Volkswagen is doing what it can to mend the fences here in the U.S. following the dieselgate scandal, but it keeps falling on its face. The latest issue comes in the form of a big, fat rejection of VW's latest proposed fix for its 2-liter diesel engine from the California Air Resources Board.
According to Automotive News, CARB received VW's latest idea to fix the 2-liter diesel engine, which used electronic software to disguise the fact that it emitted up to 40 times the legal limit of pollution. Unfortunately, CARB found the fix was "incomplete, substantially deficient and falls far short of meeting the legal requirements." Additionally, CARB said the fix simply was not fast enough, so it rejected the proposal.
The specifics behind the failed proposal remain unknown at this point, but CARB did send VW a confidential letter outlining its shortcomings. Luckily, CARB has not given up hope just yet, as VW still has the opportunity to tweak its plans so they are up to snuff for CARB, and possibly get the 2-liter TDI back on the list of permitted diesels in the U.S.
To make matters worse, it's not just CARB that is kicking back VW's plan. The EPA has stated that it completely agrees that VW has not done enough to make good on its cheating ways. VW says that is remains committed to finding a solution that will satisfy lawmakers and get the 2-liter TDI back in showrooms in the U.S.
Also on the block for repair is the 3-liter TDI engine used in various VW, Porsche, and Audi vehicles. The EPA and CARB have set a hard deadline of February 2, 2016 to fix this engine's issues, but Volkswagen is confident that it will have this engine up to par before the deadline passes.
Once VW finally gets its approval for the revised software in these diesel engines, look for it to start rolling out aggressive deals on its small diesel-powered cars, like the Jetta and Golf, to help regain its share of the slim diesel market in the U.S. In the meantime, you can still shop for gas-powered variants of all VW's models -- and probably find a good deal on them.