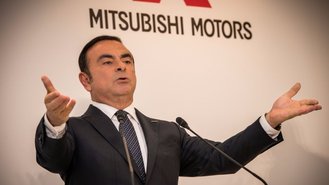 Back in May, the Renault-Nissan Alliance announced that it had purchased a majority share of embattled automaker Mitsubishi. At that time, it was uncertain how Mitsubishi would fold into the partnership, but a recent announcement by Mitsubishi and Renault-Nissan clears it all up.
According to Automotive News, Carlos Ghosn will take the reins at Mitsubishi as its chairman, replacing Osamu Masuko. Masuko will, however, stay on Mitsubishi's payroll as the automaker's president. To avoid spreading himself too thin, Ghosn, who is also the chairman and CEO of Renault and Nissan, has appointed Hiroto Saikawa, Nissan's current vice chairman and chief competition officer, as his co-CEO at Nissan.
While the restructuring, which also includes a downsized Mitsubishi board that includes 11 members, still requires approval from Mitsubishi shareholders, it seems all but a done deal.
According to Masuko, Mitsubishi will save about $241 million each year once the synergies between the automakers kick in, while Ghosn says Nissan will save $232 million in 2017 and $579 million in subsequent years.
Some of these cost-saving measures will include Nissan selling a rebadged Mitsubishi in Southeast Asia and Mitsubishi's advanced plug-in hybrid system spreading across the three-maker alliance. Mitsubishi will also boost its overseas sales with Nissan's retail financing services.
While this likely won't have any immediate impact here in the U.S., we could see more advancements from both Nissan and Mitsubishi. The latter needs the most help, as its entire lineup is quite dated and anything but exciting.
Also unexciting are Mitsubishi's deals here in the U.S. We only hope that it also inherits Nissan's ability to roll out competitive offers, like its 36-month lease on the 2016 Rogue S, which runs $189 per month with $1,899 due at signing. Alternatively, Nissan is offering up to $1,500 cash back on the popular crossover or 0 percent APR for 72 months.