Modern cars, more than ever, provide parents with more control over the way their teenagers drive the car when it's their turn to slide behind the wheel. Unfortunately, owners aren't getting proper training and information on how or what these teen safety features are, reports the Insurance Institute for Highway Safety (IIHS). Apparently, dealers aren't doing a good job of explaining the features to new owners and automakers are making it difficult for owners to get information on the safety features.
Ford, for example, is one of the few automakers that has a nifty system in place that allows owners to physically control the vehicle's settings by reconfiguring a key. Once MyKey is enabled, the safety belt reminder is turned on, the audio system is muted when the front passenger's seat belt is not fastened, the low fuel light will activate earlier, and driver-assist features are forced on. Other configurable things that owners can do include setting a vehicle speed limit, vehicle speed reminders, a maximum audio volume of 45%, and traction control to always be on. Searching through Ford's website, creating and programming MyKey seems like a tricky thing and it doesn't sound like the automaker's dealers are helping to make things easier.
An earlier survey conducted by the IIHS found that one-third of Ford owners with vehicles that had the MyKey system didn't even know their car had the safety feature. While dealers can lend a helping hand by giving shoppers more information on teen safety features during the buying process, the insurance institute found that salespeople weren't too keen to teach owners about the features – unless shoppers specifically asked for it.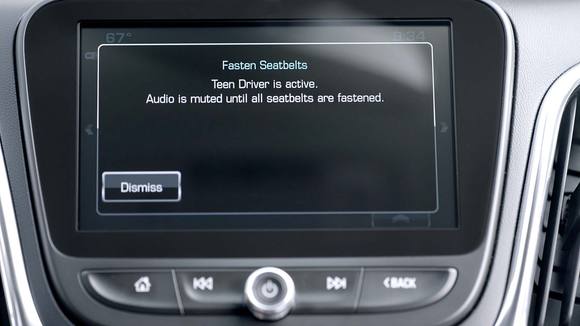 "Vehicle monitoring systems can improve the behavior of teen drivers and reassure their parents," says IIHS Research Scientist Rebecca Weast, the study's lead author. "Dealers could make this a bigger selling point with parents shopping for their new drivers."
Dealers aren't the only point of blame for teen safety features. The IIHS states that automakers' official websites could do a lot more to promote and explain the features on their vehicles. With three out of the four automakers that the institute studied, the institute found that consumers would have to spend "a significant amount of time" scrolling through information and pages to get to anything that explained teen safety technology. This has become a serious issue, as more consumers take their shopping experience online because of the coronavirus.
The IIHS' report claims that there are roughly 12 automakers that offer teen safety systems on their cars, but the organization focused on ones from four main companies – Chevrolet, Ford, Hyundai, and Kia. For Chevrolet, its teen driver system is available on 10 models, though consumers have to upgrade from the base trim on the majority of vehicles. Ford's MyKey is standard on all of its models. Hyundai's Blue Link Remote system is offered on most of its models, though the system costs $99 after the first three-year complimentary period. Kia offers teen driver safety features through its UVO eServices as an option, but doesn't provide any information on pricing on its official website.
To gather information on how knowledgeable salespeople were about their respective automakers' teen safety features, the IIHS sent two researchers to dealerships. The researchers posed as parents looking to purchase a vehicle for their teenagers. The institute interviewed over 40 salespeople – 10 from each of the four automakers. Only three salespeople brought up the vehicles' teen driver features during the initial introduction, while another 26 only brought up the safety feature after a researcher asked about it. The institute found that the majority of salespeople had limited knowledge about how the teen safety features worked.