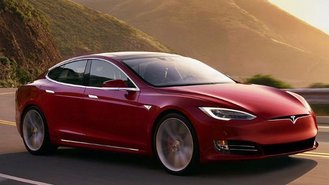 Ahead of the full rollout of the highly anticipated Tesla Model 3, the automaker is creating some distance between its new model and the existing Model S.
Tesla will drop the Model S 75 by year's end, according to Electrek. The $69,500 variant is the only Model S with rear-wheel drive – all others have the dual-motor all-wheel-drive setups. Model S prices should start at $74,000 now. The company says it will fulfill existing orders for Model S 75s, or encourage those waiting for one to step up to the 75D.
More affordable versions of the Model S with shorter ranges have been consistently pruned off over the last couple of years, with Tesla clearly seeing more success with more expensive variants with larger batteries and increased performance.
The Model 3 has just started trickling out of Tesla's California assembly plant, with production expected to ramp up by year's end, according to the company. The base version costs $35,000, but dual-mode all-wheel-drive versions are expected to be launched later, closing the rather large gap between the Model 3 and Model S in terms of price.