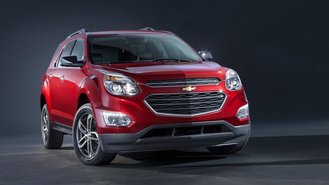 As of late, almost every automaker has begun the process of realigning and expanding their model portfolio to accommodate America's growing appetite for the crossover. Hyundai's doubled down and really improved their latest offering, the 2016 Tucson while Nissan has announced plans to boost production of the Rogue. And now news has surfaced that Chevrolet will add another crossover to their lineup as soon as 2017. The move will allow the brand to capture more sales by offering a model that will make a genuine effort to go after the popular 3-row crossovers in the segment, the 2016 Honda Pilot and the 2015 Toyota Highlander.
Five Models, Five Different Sizes
As it stands today, Chevrolet sells three different crossovers: the Trax, Equinox and Traverse. For 2017, a new model that slots between the Equinox and Traverse will be released. The model name and other specifications have not been officially announced, however. Look for Chevy to make an announcement in the coming months.
A quick look at the chart above illustrates where each brand is in regards to crossovers. Note that the "Extra Large" segment we have listed is more SUV than crossover. An SUV is truck-based, meaning that it features a conventional body-on-frame design versus a crossover, which features unibody construction and is often based on a sedan.
Smaller Next-Gen Equinox
To accommodate the new Chevy's new 2017 midsize crossover, the next-generation 2017 Equinox will get downsized. It will be reportedly based on the upcoming 2016 Chevrolet Cruze compact sedan. But what does this all mean for prospective Equinox shoppers? If you really like the Equinox, you might want to spring for the 2015 or upcoming 2016 model soon. Our advice to wait things out because the landscape is still developing. And the cherry-on-top might bear fruit in the form of a tidy year-end incentive.
Current Deals on Crossovers
As we near the tail end of July, the deals are relatively good for the burgeoning segment. Here are some of the deals which are currently available in the crossover segment:
Ultra Compact: Smallest, most fuel-efficient crossovers with seating for five.
2015 Chevrolet Trax Deals and Incentives »
2015 Jeep Renegade Deals and Incentives »
Compact: Slighter larger and roomier with seating for five.
2015 Jeep Compass Sport Deals and Incentives »
2015 Ford Escape Deals and Incentives »
2015 Jeep Cherokee Sport Deals and Incentives »
2015 Chevrolet Equinox Deals and Incentives »
2015 Toyota RAV4 Deals and Incentives »
2015 Volkswagen Deals and Incentives Tiguan »

Midsize: Larger and more powerful with seating for five.
2015 Hyundai Santa Fe Sport Deals and Incentives »
2015 Jeep Grand Cherokee Deals and Incentives »
2015 Ford Edge Deals and Incentives »

Full-Size: Largest offering heaps of cargo capacity and seating for seven to eight.
2015 GMC Acadia Deals and Incentives »
2015 Chevrolet Traverse Deals and Incentives »
2015 Mazda CX-9 Deals and Incentives »