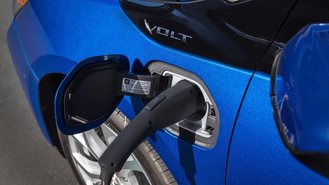 Range-anxious potential EV buyers across the U.S. are eagerly watching Tesla and Chevy as both are set to release relatively affordable EVs with a range in excess of 200 miles. While the Tesla Model 3 is lagging, the Bolt EV is steadily taking shape. Chevy recently unveiled the official all-electric range of the Bolt EV, and the rest of the EV segment needs to take notice.
Following rigorous testing by the EPA, the agency has given the Bolt EV a whopping 238-mile range. Sure, that pales in comparison to the 302-mile estimated range of the Model S P90D, but that is a $134,500 electric car. The Bolt's range does, however, edge out the cheaper Model S 60 and 60D, which have ranges of 210 and 218 miles, respectively.
But the Bolt isn't here to compete with the Model S. Instead, it looks to battle the Nissan LEAF, Ford Focus Electric, and VW e-Golf. Honestly, there is no way that any of these three electric cars can come close to the Bolt, as the LEAF is the thriftiest and it can only travel up to 107 miles on a charge.
With that said, both Nissan and Ford are planning to extend their EVs to beyond 200 miles. Unfortunately, with the Bolt EV so close to production, Ford and Nissan both are well behind the eight ball. Lucky for them, the Model 3 isn't slated for arrival until 2017—which in Tesla time is more like 2018 or 2019.
The wild card in all of this is the fact that Chevy said that its Bolt EV will sprint to 60 mph in under seven seconds. This makes the 238-mile EV significantly faster than all other EVs without a Tesla badge. Unless the other three EVs can either way undercut the Bolt in price or get performance enhancements to put them on a level similar to the Bolt EV, these models will find it hard to lure in buyers.
Only time will tell if the Bolt EV ends up being as dominant as it seems to be on paper.
There are still a few months until the Bolt EV hits showrooms, but if you cannot wait, there are plenty of deals on the range-extended electric Volt. For example, Chevy is offering up to $1,500 off old inventory and up to $1,000 in bonus cash in certain regions. There are also great lease deals on the 2017 Volt, including a 39-month deal that's available only in California and Oregon. This deal runs $299 per month with $0 due at signing.