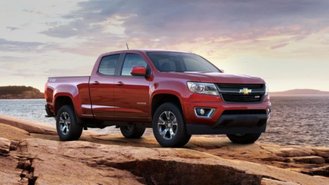 Call 'em compact trucks or midsize trucks. Regardless of nomenclature, we haven't seen sales like this in years, especially when you take into consideration that GM literally offered no incentives to the new 2015 Chevrolet Colorado. Heck, even low APR incentives are absent this month. Despite that fact, Chevy plans on selling every single Colorado it produces. Why? Because it's that damn good. GM is even adding a third shift to its production line to help keep up with demand.
A Brief History
Ford decided to nix the Ranger back in 2011. In 2012, Chevy followed suit, discontinuing the first Colorado, which was produced from 2004 - 2012. The short three year hiatus meant that the Toyota Tacoma would continue its monopolistic-like dominance over a segment that didn't really have a true number two. My what a few years can do. Sales of the Colorado and it's near-identical twin, the GMC Canyon have teamed up to sell 16,937 samples.
Shoppers Making the Switch
Moreover, Chevy is reportedly seeing a massive 41 percent conquest rate (a conquest rate is basically a defection rate in which new buyers change makes towards another brand, in this case, GM).
2015 GMC Canyon Wins Truck of the Year »
The midsize truck segment has been reinvigorated. Prospective shoppers and owners alike realized that in most cases that they didn't need a full-size truck.
What it All Means For You
Do you really want a Chevy Colorado? It's highly likely you'll have to pay MSRP, which by no means is a bad deal when you consider its low $21k price out of the gate. In fact, our view is contrarian to the belief that paying MSRP is always a bad deal. Remember, things could be worse--they could charge more than MSRP. There's a reason why it keeps racking up the awards: it's the best value in its class.
The 2015 Chevrolet Colorado has a starting MSRP of $20,995. Build and price yours today »
The 2015 GMC Canyon has a staring MSRP of $23,575. Build and price yours today »