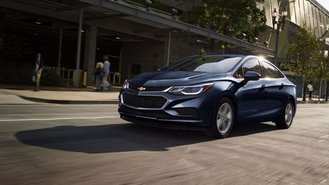 Still a diesel fan? Chevrolet hopes the 2017 Cruze Diesel and its 52-mile-per-gallon highway rating will entice you.
Even with Volkswagen out of the diesel market in the US, the Cruze Diesel looks like the fuel economy champ according to the EPA figures released this week. With its standard six-speed manual, the Cruze Diesel sedan returns 30 mpg city, 52 highway, and 37 combined.
The optional nine-speed automatic, which we expect to be the most common transmission, drops that impressive highway figure 47 mpg, which is still highly impressive for any small sedan without the assistance of an electric motor.
While there are still diesel fans who like the technology but are angry at VW for their emissions cheating scandal, buying the Cruze Diesel to save money on fuel is always a bit of an uncertainty. Diesel has historically cost more than regular fuel in most of the US, and fuel is already relatively inexpensive in the country so far this year.
Then there's the added cost of the diesel-engined Cruze. It starts at $24,670, which, according to Green Car Reports, is $2,750 more than a comparably equipped Cruze LT sedan, which already scores 40 mpg on the highway and matches the diesel's city rating.
Still, a diesel-powered Chevy could certainly be the right choice for you, especially if long highway drives are your thing. The Cruze Diesel sedan goes on sale this spring, while the hatchback follows later in 2017.