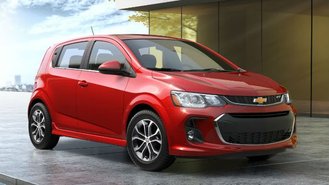 With the rise of SUVs and the continued death of smaller machines, rumors that claimed the Chevrolet Sonic would be killed as early as this year sounded like they had some merit. Despite the continuing popularity of large vehicles, it looks like Chevrolet's's miniature vehicle will make a comeback for the 2019 model year.
Talking with The Car Connection, Chevrolet spokesman Nick Jaynes Morgan confirmed that the model would return for the 2019 model year.
"Sonic will indeed be sold to both retail and fleet customers for 2019 model year," said Morgan.
Obviously, Morgan's statement contradicts rumors that hit the web last month. Chevrolet recently rolled out with the refreshed variants of the Spark, Malibu, and Cruze for 2019. The Sonic will be entering its eighth model year, as the vehicle replaced the Aveo in 2012. Not seeing a redesigned Sonic for the new model year left everyone to contemplate the vehicle's future.
The outlet got a hold of an ordering guide that revealed things would mostly stay the same for the 2019 Sonic. Manual and automatic transmissions will be offered and trims for the subcompact include the LT and Premium. If true, this means Chevrolet has decided to put an end to the entry-level LS trim.
Unlike Ford, which recently announced it would be abandoning its smaller vehicles like the Fiesta, Focus, and Fusion, General Motors doesn't have any plans to move toward a crossover- or SUV-only lineup. So, its small cars, like the Sonic, Spark, Cruze, and Malibu are here to stay for the time being.