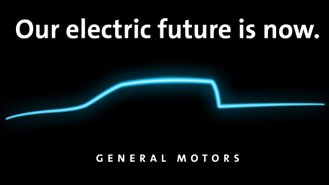 General Motors is going all-in on electric vehicles between its brands. Overall, the automaker claims it will have 20 new electric cars on the market by 2023. We've known that tidbit of information for quite some time, but now, GM put out a 179-page sustainability report that provides some more detail on what kind of EVs we can expect to see from the American brand. The one that piqued our interest the most, was an electric truck from Chevrolet.
Chevrolet doesn't provide a lot of information on its upcoming truck, except claiming the BET, which we assume stands for "battery electric truck," will offer more than 400 miles of range. The automaker claims that it will be its first full-size electric pickup truck. According to the lengthy report, Chevy's electric pickup will be different from the upcoming GMC Hummer pickup.
We heard about a possible electric pickup truck from Chevrolet last May. At the time, GM CEO Mary Barra told Automotive News that an electric full-size pickup truck would be introduced to help the automaker round out its line of EVs. Barra didn't provide any concrete information beyond confirming its plans. The only thing we do know is that a full-size electric truck would be the same size as the current Chevrolet Silverado 1500.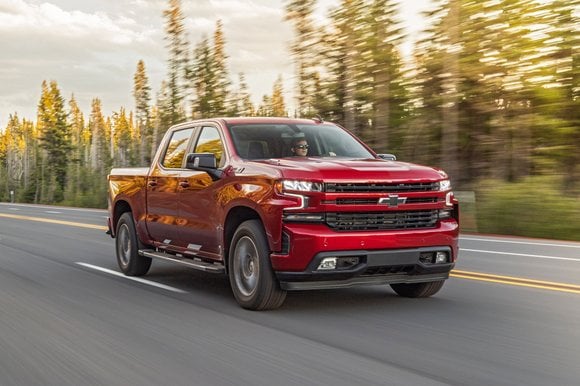 Other major news from the report includes more clarifications on what kind of EVs Chevrolet will introduce. In addition to the electric pickup truck, Chevy will come out with an electric midsize SUV and a Bolt EUV (we think that stands for electric utility vehicle). The Bolt EUV will have similar styling to the recently introduced Blazer and come with GM's excellent Super Cruise system. The report claims that this will be the first vehicle outside of the Cadillac family to come with Super Cruise.
GM also provides more information on what electric vehicles its other brands will be working on. Cadillac has four electric SUVs in the cards, GMC has two (the Hummer pickup and a Hummer SUV that's based on the truck), and Buick will introduce two EVs (both will be SUVs). We already knew Cadillac would be the automaker to head GM's EV push, as an earlier report from Auto News claimed that the luxury marque would be the first brand to introduce an EV for the American market. The report doesn't clear any of that up, but it does provide more information on what to expect from Cadillac.
Cadillac's four electric SUVs will include the Lyriq, an unnamed three-row SUV, another unnamed EV that will be similar to the XT4, and a large three-row SUV that will use the Escalade as inspiration. The luxury automaker also talks about the Celestiq Statement Vehicle, which will be an ultra-luxurious EV. It will be hand-assembled and Cadillac believes that it will only be able to build 1.2 units of the vehicle a day.
GM's plans to introduce 20 electric vehicles is an interesting one, as the Bolt, the only EV on sale from the brand since 2016 hasn't been all that popular. In 2019, Chevy only sold 16,418 units of the electric hatchback, which means it was outsold by the Chevrolet Impala, Spark, and Cruze – two of the three vehicles (the Impala and the Cruze) have been discontinued. Beyond Tesla, electric vehicles continue to be a niche market that few consumers want to be a part of. Clearly GM expects that to change shortly or it wouldn't be pouring millions into developing an extensive fleet of EVs across its brands.
Only time will tell if this is a good idea for GM, but coming out with a few electric pickup trucks certainly won't hurt. Multiple automakers are looking to introducing electric pickups down the road, as Tesla, Ford, Rivian, Nikola, Bollinger, and Lordstown have all showcased some kind of electric truck recently. Being a part of that competitive class will only help the brand.
Pictured: 2020 Chevrolet Silverado 1500 (Gasoline)