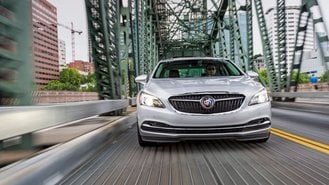 With a glut of cars when trucks and SUVs are in demand, General Motors may make some deep cuts to its sedan lineup in the coming years, according to a new report.
The Buick LaCrosse, Cadillac XTS, Chevrolet Impala, Chevrolet Sonic, and Chevrolet Volt are all facing uncertain futures, along with union workers at the plants that assemble them, according to sources with Reuters. This is in the face of slow demand for some and a possible shift that could see some, if not all, replaced by crossover-like vehicles by early next decade.
GM has not responded to CarsDirect regarding the report. But Cadillac President Johan De Nysschen told Jalopnik last week there was, "absolutely no plan, at all, to cancel the CT6." The high-end Cadillac sedan just went on sale last year on a new platform intended to spread to future Cadillac models.
But the XTS, despite a 2018 revision, is not expected to continue much longer and has been primarily aimed at fleet and livery buyers. It, as well as the Impala and LaCrosse, are part of the large front-wheel drive sedan segment that has seen drastic sales declines in the last few years as buyers flock to crossovers such as GM's own Buick Enclave and Cadillac XT5.
Meanwhile, the Sonic and Volt could be replaced by future versions of the Chevrolet Trax and other dedicated electric vehicles along the lines of the newly introduced Bolt EV.
While all of this may happen a few years from now, it's an indication the SUV and truck market is booming and now is a good time to get a deal on a sedan that some automakers are struggling to sell now.