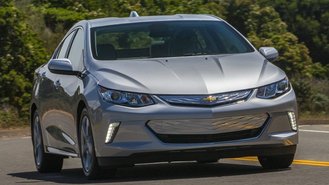 It seems like every automaker is shifting production toward SUVs and crossovers. Earlier this November, General Motors (GM) announced that it would bring production of six models to an end and close three of its plants in North America. While the Chevrolet Volt was one of the vehicles on the chopping block, we thought the automaker would bring a successor quickly to the market as electric vehicles are finally starting to gain traction. That, though, doesn't appear to be the case.
According to Green Car Reports, GM recently announced that it would be cutting an additional 50 jobs at its Brownstown plant in Michigan. The plant is the prime location for the assembly of GM's battery packs for the Volt. While that in itself wouldn't lead us to believe that a Volt successor isn't years away, GM's previous announcement a few months also revealed that the brand's Detroit-Hamtramck plant, which is where the Volt is assembled, will shut its doors. The complete picture doesn't bode well for the Volt or for a successor.
As the outlet points out, GM was slated to introduce a crossover to replace the Volt in 2020. The high-riding vehicle was rumored to utilize the Volt's plug-in hybrid powertrain, but after the recent announcements, that doesn't look like it will be the case.
The last nail on the coffin for the Volt comes at an interesting time. As Green Car Reports points out, the Volt will officially go out of production next March. GM's federal tax credit will be cut in half from $7,500 to $3,750 in April 2019, or a month after the death of the Volt. There's a good chance that GM could switch gears completely and focus solely on electric vehicles.