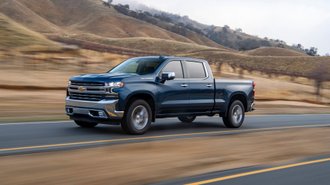 Both Ford and Ram offer diesel engines for their full-size pickup trucks—the F-150 and 1500, respectively. But Chevrolet lacked such an offering for its Silverado. The automaker planned to introduce the Duramax 3.0-liter inline-six turbodiesel for the Silverado's 2019 model year but had to delay it to 2020. Now, ahead of its launch, Chevrolet has detailed its pricing, availability, and some of the engine's technical innovations.
Chevy's 3.0-liter turbodiesel will be available on the LT, RST, LTZ, and High Country trim. Customers will have to pay extra for the diesel. Upgrading over the 5.3-liter V8 will require $2,495 while upgrading from the turbocharged 2.7-liter Silverado engine requires $3,890. The 3.0-liter's price increase is identical to the 6.3-liter V8 engine option.
The 3.0-liter engine, paired with the 10-speed automatic, makes 277 horsepower and 460 pound-feet of torque. That's more than the competition. The F-150's diesel engine produces 250 hp and 440 lb-ft of torque while the Ram has the weakest diesel engine offering with 240 hp and 420 lb-ft of torque.
To design the engine, Chevy aimed for a new clean-sheet design. The engine is made of cast aluminum alloy, which provides the necessary strength for high combustion chamber pressure while having 25% less mass when compared to a cast iron block. However, Chevy did add iron cylinder liners into the aluminum block. Another feature is a new low-pressure exhaust gas recirculation system. This allows the engine to burn spent exhaust gas.
Chevy's new diesel couldn't come at a better time for the company. While Ford and Ram have a head start in making inroads with cautious diesel customers, Chevy should have no trouble selling its innovative 3.0-liter inline-six engine. It packs power into an efficient package, beating its competitors even if its a bit late to the party.