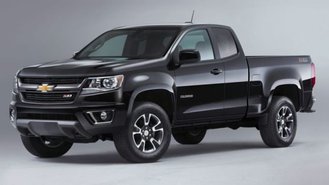 Two of the most popular trucks on the market are poised to be released with highly-anticipated diesel engine options later this year. But with Volkswagen's well-documented (and still-developing) emissions scandal in the limelight, automakers like GM will be forced to be the first to have their diesel-powered models tested under more stringent procedures.
VW Emissions Scandal: What You Need to Know »
Both the 2016 Chevrolet Colorado and 2016 GMC Canyon are already on sale, but the diesel-powered versions which were initially scheduled to be released later in the year might end up getting delayed. GM's Duramax 2.8L 4-cylinder powers both models.
In an article published by Automotive News, Scott Yackley, Assistant Chief Engineer at Chevrolet Trucks said that the engineering team at GM have conducted extensive lab and road tests and are confident that both trucks will pass testing.
It's important to note that this does not allege that the GM trucks won't pass the new tests. It just means that the EPA will need more time to administer them.