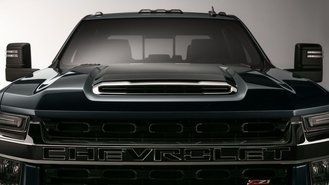 In the next 18 months, Chevrolet plans to release three new, distinct versions of its Silverado pickup truck. The company first unveiled the 2019 Silverado 1500 in January, followed by the 2019 Silverado 4500HD, 5500HD, and 6500HD chassis-cab models in March. Now, the automaker is teasing the 2020 Silverado HD ahead of an official reveal next year.
"Chevrolet already fuels the most successful truck manufacturer in the industry," said Alan Batey, global head of Chevrolet. "With a completely new, expanded range of Silverado models on the horizon, we expect to see even more truck buyers in Chevrolet showrooms."
The teaser for 2020 Silverado HD shows an audacious and aggressive grille with CHEVROLET stamped out of it along with a Z71 trim badge. In a statement, Chevy said the truck is "designed for the specific priorities and needs of heavy-duty truck customers." Testing will begin soon with the first production models to rolling off the assembly line in the third quarter of 2019.
"All three Silverado models offer a wide range of choices, as no two truck customers are alike," Batey added. "Every Silverado is built to be long-lasting and dependable, as many customers need their trucks to earn a living or to do what they enjoy most when they're off the clock. Finally, every Silverado is built to work – as we know every truck, no matter how luxurious, has a job to do."