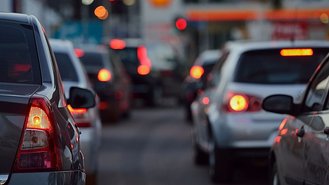 With the holidays fast approaching, parents are looking for ways to reduce stress while traveling. A new study from Harris Poll, on behalf of Chevrolet, found traffic to be one of the biggest stressors when taking road trips with families. The study also found one way to combat that stress: technology.
According to the poll, traffic outranked the often-heard "Are we there yet?" chant, packing, and cost in terms of stress for parents. More than half of those surveyed said wi-fi/internet connectivity could help make family road trips more enjoyable. The survey also discovered a typical family brings 6.6 mobile devices with them when traveling on family road trips. That's a lot of technology.
Nearly three out of 10 parents surveyed said they would take longer and more frequent trips if their vehicles came equipped with wi-fi. For those parents whose vehicles do have wi-fi, about 55 percent said they would take longer and more frequent road tips thanks to the internet technology.
Even with all the connected technologies, 80 percent of surveyed parents enjoy spending time with family, while 69 percent enjoy stopping at interesting locations and destinations. The family road trip isn't dead yet, as 67 percent of parents include their children when planning a road trip.
Before planning the perfect family road trip, however, know there is an ideal length. According to those surveyed, that length is about six hours.