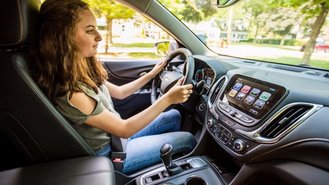 Chevrolet will start offering its OnStar Family Link service as free for a three-month trial period throughout August. Anyone who owns a Chevy from model year 2012 or newer and has an active OnStar Basic Plan subscription can claim the offer (you can get the OnStar Basic plan for no charge).
Family Link lets parents keep a constant tab on their child's vehicle. They can obtain the exact location of the car on a map at any time via a laptop or an iPad, they can receive text and email alerts informing them of their child's whereabouts, and they can get a warning if the car travels beyond a specific radius, say the boundaries of the state.
"The day your children start driving is a dream come true for them, but it can be a nightmare for a concerned parent," Luciana Chamberlain, product marketing manager at Chevrolet, said in a statement. "OnStar Family Link can help minimize a parent's anxiety by letting them know when their child has arrived at school, left a friend's house or traveled outside of their comfort zone."
After the three-month trial has ended, customers will have to pay $3.99 per month to continue the Family Link service, which seems like a reasonable price for peace of mind.
Family Link joins two other OnStar services built for parents to monitor their teen's driving – the Teen Driver and Smart Driver. The former lets parents set speed and volume limits for the driver, while the latter produces an extensive report on their child's driving style.