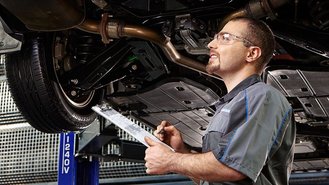 Following GM's footsteps, Fiat-Chrysler Automotive (FCA) will reduce its 5-year/100,000 mile powertrain warranty for all 2016 Chrysler, Jeep, Dodge and RAM Truck vehicles. The new powertrain warranty coverage will still come in at the same 5-year duration, but the mileage limit will now be limited to 60,000 miles--a substantial 40,000-mile cut.
Why The Change?
The change was made because FCA feels that it needs to better align itself with competitors which have adopted a similar "strategy". A trio of brands including Chevrolet, Buick and Cadillac all saw their mileage limits reduced substantially earlier this year.
During the height of the recession in 2009, FCA announced the big mileage warranty to help assuage the fears that prospective car shoppers might have had when comparing cars, namely from Hyundai and Kia.
Both the Korean brands now stand alone in terms of having the best warranties at 10 years/100,000 miles.
What It Means For You
The hit in mileage represents a decrease in value in some shoppers' minds when buying a new 2016 model. Look, on paper, the cut looks huge. Some might scoff at the notion of the big reduction. "If Chrysler/Jeep/Dodge/RAM vehicles are so darn good, why the big cut?" The point is well-worn, and we understand it. But there's a bit of good news.
Golden Opportunity Awaits
Yeah, we love the new 2015 Chrysler 200 and the 2015 Jeep Grand Cherokee. They both look and feel like vehicles that should cost a whole lot more. And if you want your cake and eat it, too, then buying a 2015 model might be the best bet for you. Remember, only 2016 models will get the big 40,000 mile warranty cut. All 2015 Chrysler/Jeep/Dodge/RAM vehicles will still get the big 100,000-miles powertrain coverage.
And with a healthy supply of 2015 models on showroom floors, now is your last chance to score a 2015 model with the extended warranty. Once all the 2015s get sold, only 2016s will be available and won't be privy to the 100,000 mile powertrain warranty.
The cherry on top? Current incentives on popular FCA models are solid this month.
Here are some of our top picks from Chrysler/Jeep/Dodge/RAM:
Chrysler Models
2015 Chrysler 200 Deals & Incentives »
2015 Chrysler 300 Deals & Incentives »
Jeep Models
2015 Jeep Grand Cherokee Deals & Incentives »
2015 Jeep Cherokee Deals & Incentives »
2015 Jeep Compass Deals & Incentives »
Dodge Models
2015 Dodge Challenger Deals & Incentives »
2015 Dodge Charger Deals & Incentives »
2015 Dodge Dart Deals & Incentives »
2015 Dodge Grand Caravan Deals & Incentives »
RAM Models
2015 RAM 1500 Deals & Incentives »
2015 RAM ProMaster City »
In The End
The fact of the matter is, the majority of vehicle owners do not use their powertrain warranties because today's powertrains are nearly bulletproof. Mileages of 100,000 miles are now par for the course, with many models rewarding owners with 200,000 miles of trouble-free use. But with that, if you still feel a bit of trepidation, our advice is to buy a 2015 Chrysler/Jeep/Dodge/RAM versus a 2016 model. Or, you can always opt for a Hyundai or Kia model. But be forewarned--those days might be coming to an end, as well.