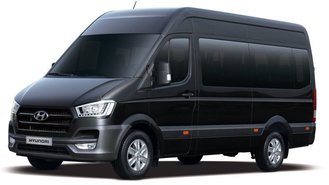 Commercial van sales, including cargo and passenger variations, were up 14.3% in the United States last year to a total of 356,814 units. But why? The main reasons are that they offer a lot of cargo capacity for the dollar, which is good for both small businesses and shoppers who don't want to drop $40k on a fully-loaded Odyssey or Sienna.
Sales of Euro-style compact cargo vans like the Ford Transit Connect, Chevrolet City Express and Nissan NV 200 are red-hot these days which seems to have gotten the attention of Hyundai.
Ford Transit Connect: Delivery Van Chic >>
Despite being the world's 5th-largest automaker, they only hold a 2.1 percent stake in the total commercial vehicle market, including cargo and passenger vans. In the U.S., that figure is zero, as the company hasn't sold a van model here since an ill-fated partnership with Bering in the late 1990s that left customers stranded without proper warranty coverage.
Hyundai's Lofty Goals
The South Korean automaker will invest $1.8 billion by 2020 in expanding and refining its commercial vehicle operations, with most of that money going toward new model development.
Hyundai has also confirmed that at least one cargo/passenger van model will be headed for North America.
Hyundai Vans Sold in Europe and Asia
In 2014, Hyundai introduced its HG 350 full-size European-style van, which in other world markets competes with the likes of the Mercedes-Benz Sprinter and Ford Transit. The HG 350 seats up to 15 passengers, or takes up to 456 cubic feet of cargo, competitive figures with other large vans.
The company also makes a smaller van model called the H-1, offered in East Asia, Australia and its home market of South Korea. That van bears a close visual resemblance to the Chevrolet City Express, and is also available in a passenger wagon form.
An all-new, more-modern version of the H-1 is the likeliest candidate to reach the United States. Compact cargo van sales were up 57.9% in 2014, while full-size van sales rose just 7.3%. The Ford Transit Connect led the charge with a strong 43,000 units sold, though the segment is just now doubling in size with brand-new entries from RAM and Chevrolet.
The Case for a New Hyundai Van
Would you consider a small cargo van from Hyundai for your small business, or as a minivan replacement? The company's lofty goal of doubling commercial vehicle production and market share by 2020 is sure to produce a strong challenger to an American-dominated segment. With the economy heading in the right direction, we feel that this segment will continue to grow, especially as more small to midsize businesses begin to flourish.