Consumer Reports recently released the findings from its Annual Reliability Survey and things have changed quite a bit. When it comes to automakers, Toyota snagged the top spot from its luxury counterpart, Lexus, which moved down to second place. Toyota's cars had an average reliability score of 80, with the most reliable model being the 86 sports car and the least reliable being the Tacoma.
Kia moved to third place, up two spots from last year, thanks to a healthy bump from the new Niro, which was found to be its most reliable model. The Sportage, on the other hand, is the Korean automaker's least reliable model. Kia's vehicles had an average reliability score of 71.
The most surprising jump, though, comes from Chrysler, which moved up 10 spots to 17th place, with the Pacifica being its most reliable model and the 300 being the least. Other FCA brands, including Ram, Dodge, and Jeep, moved up the list as well, to numbers 25, 24, and 20, respectively.
Volkswagen also made a large jump in the right direction. The German automaker ranked in at number 16 on the list, up six spots from last year. The Golf was found to be the least reliable model, while the Passat was the most reliable. Other German automakers, including Audi, BMW, Porsche, and Mercedes-Benz fared well. Audi held its place at number four on the list, BMW moved up four spots to fifth place, Porsche gained three positions to rank 13th, and Mercedes moved up three spots from last year to number 14.
The last of the notable jumps came from Subaru. The Japanese automaker came in sixth place, marking an improvement of five spots from last year. The BRZ was found to be the most reliable vehicle, with the new Impreza being the least reliable.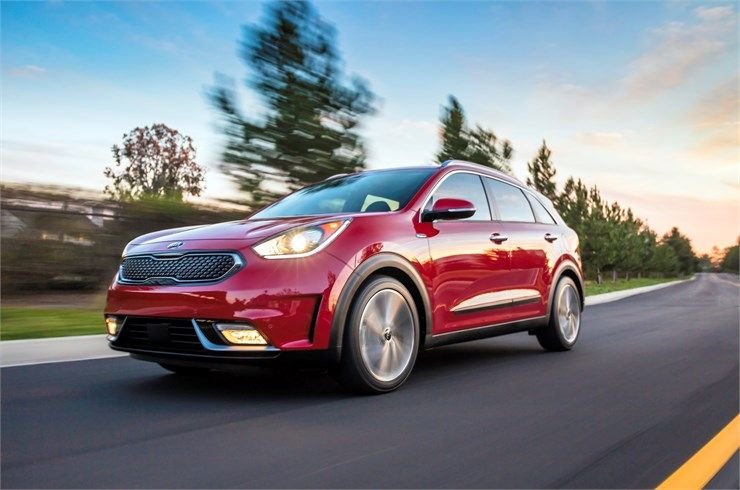 While a lot of automakers moved up the list, a few moved down. Buick, Mazda, Acura, and Cadillac were among the most noteworthy to go in the opposite direction. Acura was the worst of the bunch, moving down to 19th place with an Average Reliability Score of just 38 after ranking 12th last year. Both Mazda and Cadillac fell six spots. The Japanese automaker ranked in at number 12 on the list with an Average Reliability Score of 52. Cadillac on the other hand, moved down to last place, as its vehicles earned a score of just 26. Lastly, Buick fell five spots to eighth place with a score of 59, as the Encore was found to be its most reliable model, and the LaCrosse to be the least reliable.
Jaguar, Land Rover, Mini, Mitsubishi, Alfa Romeo, Fiat, and Smart are all noticeably absent from the list, as Consumer Reports didn't have sufficient survey data for at least two or more models. The outlet uses a zero-to-100-point scale for its reliability scoring, with higher numbers indicating better reliability. Average ratings fall between 41 and 60 points. Vehicles with below average reliability fall below 40 on the 100-point scale, while vehicles with better than average reliability get scores higher than 61.
For those not familiar with the way Consumer Reports gets its data, it's important to note that the nonprofit organization sends its subscribers an online questionnaire that asks them to note any issues they've had with their vehicles over the past 12 months of ownership. Consumers are also asked to identify issues that they considered to be serious due to "cost, failure, safety, or downtime." For this year's survey, Consumer Reports received information on roughly 640,000 cars from about 400,000 respondents.
The information that Consumer Reports received revealed that running to be the first in line to get a new vehicle comes with numerous downsides. All-new or heavily-updated models, according to Consumer Reports, are more likely to have large issues, including "a wonky engine, a jerky transmission, or high-tech features that fail outright."
Automatic transmissions, as the outlet reports, have become a sore spot for new vehicles. Consumer Reports pointed toward the 2017 Buick LaCrosse as a prime example, as numerous owners complained about the sedan's eight-speed gearbox. Other vehicles the outlet claims consumers should stay away from because of possible transmission woes include the 2015 Acura TLX and 2016 Hyundai Tucson.
Another issue that consumers cited included infotainment systems. These systems, which allow for "audio, phone, and navigation functions" on vehicles, were found to be twice as troublesome on first-year models than on older vehicles. Consumer Reports claims the 2017 Subaru Impreza is a prime example of a new vehicle brought down by its infotainment system. The 2016 model was found to be "Very Reliable," but the redesign for the 2017 model year brought numerous complaints from owners.
Consumer Reports claims to stay away from these 2017 models: the Buick LaCrosse, GMC Acadia, and Subaru Impreza. There are, however, a few models that have improved in terms of reliability thanks to a major redesign. These include the Audi A3, Mercedes-Benz S-Class, Chrysler Pacifica, Ford F-150, Ram 1500, Volkswagen Golf Alltrack, and Volkswagen Passat.
The ratings, though, should be taken with a grain of salt, as Consumer Reports gets a lot of the information from owners and then uses its own experience and any previous information it has gathered to provide consumers with a reliability score. Consumer Reports believes that it can give cars the organization hasn't driven or interacted with reliability scores based on previous models from an automaker.
The outlet, for instance, predicted that the Tesla Model 3 will have an "Average" reliability score without getting behind the wheel of one or getting data from owners. Instead, the outlet looked at the information it had on hand from the electric automaker's other vehicles. To see all of Consumer Reports' findings, head over to the organization's website here.