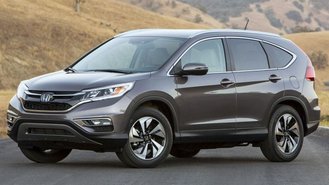 Toyota sold a staggering 43,837 Camrys in May according to the Automotive News Data Center. And incentives on the Camry definitely played a role in that figure. In fact, last month, incentives for both compact and midsize sedans hit a 5-year high. But why? Well, manufacturers are trying hard to keep shoppers interested as they make the switch to crossovers. The ultra-popular segment continues to grow at a brisk pace without big incentives, forcing manufacturers to offer stronger deals on their sedan stablemates. Although sedans still reign supreme from a sales standpoint, crossovers are quickly gaining steam.
Best Lease Deals for June 2015 »
Good News For Sedan Shoppers
That's good news for many who still prefer a Honda Accord or Ford Focus for their commuting duties. The incentives for both models are strong this month, and that trend is likely to continue into next week's busy 4th of July holiday weekend.
In addition, Honda has even begun an early selldown on on the Accord while boosting incentives.
Best Crossover and Sedans Deals »
Crossovers Priced Right
On the flipside, you won't find a killer deal on a 2016 Honda HR-V or 2016 Mazda CX-5. Shoppers are snapping them up in droves. The brand-new compact HR-V crossover got a huge jump out of the gate, and that's with no incentives.
Even sales of more upscale crossovers like the 2015 Lexus NX 200t continue to post consecutive sales increases month-over-month without any major incentives, while BMW raised the price of their 2015 BMW X5 by $1,000 earlier this year.
But all that brings us back to the fact that crossovers are priced right. Some may disagree, but the sales simply do not lie. Just take a look at Subaru's popular crossover-heavy lineup. They don't feature the big cash rebates some may want, but all of the brands' models sell extremely well and their priced very reasonably.
Best-Selling Crossovers
That brings us to the best-selling crossovers year-to-date. Again, some may not have the big rebates you might come to expect, but if you take a closer look, the pricing is extremely reasonable especially when you factor in how fuel-efficient they are. Moreover, notice the year-to-date increases. The big gainers are the Honda Pilot, Jeep Patriot and Nissan Rogue. Comparatively, sales of the Honda Accord and Chevy Cruze are lagging behind the pace set in 2014.
| | | | |
| --- | --- | --- | --- |
| Crossover | 2015 YTD | 2014 YTD | Change |
| 2015 Honda CR-V | 134,669 | 128,563 | 4.7% |
| 2015 Chevrolet Equinox | 123,925 | 99,083 | 25.1% |
| 2015 Toyota RAV4 | 118,732 | 95,363 | 24.5% |
| 2015 Nissan Rogue | 112,154 | 84,236 | 33.1% |
| 2015 Ford Explorer | 99,855 | 87,170 | 14.6% |
| 2015 Jeep Cherokee | 86,954 | 67,095 | 29.6% |
| 2015 Subaru Forester | 66,770 | 61,083 | 9.3% |
| 2015 Honda Pilot | 59,863 | 40,850 | 46.5% |
| 2015 Jeep Patriot | 49,944 | 37,055 | 34.8% |
| | | | |
| --- | --- | --- | --- |
| Sedan | 2015 YTD | 2014 YTD | Change |
| 2015 Toyota Camry | 178,408 | 181,876 | -1.9% |
| 2015 Toyota Corolla | 159,486 | 143,409 | 11.2% |
| 2015 Nissan Altima | 142,613 | 150,342 | -5.1% |
| 2015 Honda Civic | 129,574 | 134,796 | -3.9% |
| 2015 Honda Accord | 128,269 | 152,949 | -16.1% |
| 2015 Ford Fusion | 127,749 | 137,894 | -7.4% |
| 2015 Chevrolet Cruze | 105,291 | 119,330 | -11.8% |