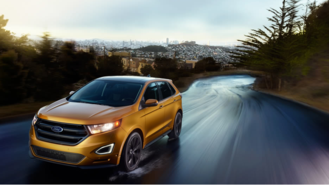 Today Ford announced that it's going to add an additional 400 jobs on top of the initial 1,000 they had added to help with production for the newly-redesigned 2015 Ford Edge. The lofty number is part of a $565 million investment to help boost crossover sales for the brand, which is seeing increased competition from both the redesigned Nissan Murano and Jeep Grand Cherokee. The Edge is a unique crossover in that it's about half a size larger than the compact crossover juggernauts, the Honda CR-V and Toyota RAV4 but not quite as large as the Ford Explorer.
Up to $3,000 Rebate on 2014 Ford Edge »
If you're in the market for a crossover--compact, midsize or even full-size--you should wait for the 2015 Edge.
Global Platform
The new 2015 model is part of a global platform that Ford is utilizing to not only help bring production costs down, but to improve overall quality. Since the Edge will be sold overseas in Europe, consumers in that region are definitely going to compare the Edge to offerings from more upscale brands like BMW and Audi. The decision to do so has forced Ford to leave no stone unturned in the goal to produce a crossover with solid features and quality.
Better Quality Control
Moreover, Ford is taking a different approach to building the Edge in that it's in-sourcing jobs that were previously out-sourced, which will help them keep tabs on every model that leaves their facility. That means tighter body panel gaps, better seals around the glass and a more solid assembly process which all contribute to a quieter cabin.
The Takeaway
The takeaway for the American consumer is that they're not only going to get a crossover that oozes quality and a competitive set of features, but a price that will make the 2015 Edge the best value in the red-hot segment.
For more, read our preview on the 2015 Ford Edge.