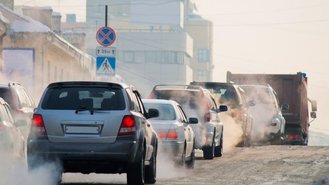 It looks like Volkswagen isn't the only automaker in hot water in the U.S. for selling dirty diesel engines. A new report indicates that Detroit Diesel, Daimler's heavy-duty diesel engine manufacturer, will settle with the EPA over claims of emission-spewing diesel engines.
According to the report from Reuters, Detroit Diesel will spend $14.5 million to reduce pollutants and another $14 million in civil penalties. The odd part of this settlement is that the Justice Department only accused Detroit Diesel of breaking the law and had yet to pursue charges. According to the report, instead of waiting on costly litigation, Detroit Diesel chose to just pay upfront to settle.
The alleged violations came when the diesel engine manufacturer began building 7,800 engines in 2009 but didn't finish them until 2010. Unfortunately, in 2010 the EPA released stricter regulations and Detroit Diesel thought it was legal to still use the engines, despite them not being compliant with the new rules. Well... it was wrong.
Now, the engine manufacturer will recall all 7,800 affected engines. In school buses, Detroit Diesel will have to replace these engines with ones from 2013 or later. As for affected locomotives, the company will have to replace them or install new engines.
Luckily, Daimler's most recognizable brand, Mercedes-Benz, isn't affected by this issue.
For those interested in Daimler's luxury brand, it has some strong deals this month. One deal that stands out is the 2016 CLA250's 36-month lease deal that runs $393 per month with $0 due at signing. This model also has an aggressive manufacturer-to-dealer incentive available to help pull down the MSRP.