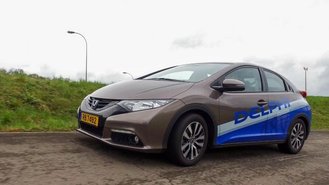 In today's world, the term "hybrid" is a broad one that requires a lot or clarification. We now have standard hybrids, plug-in hybrids, parallel hybrids, series hybrids, and mild hybrids. The latter happens to be the topic of today's news, as Delphi has released a new 48-volt mild-hybrid system that can significantly reduce CO2 emissions at a price that the average buyer can afford.
A mild hybrid bridges the gap between a standard hybrid and cars with start-stop systems (AKA micro-hybrids). It bridges this gap by using a lower-power electric motor and a smaller-capacity battery that still delivers the boost needed to increase its efficiency without the added costs associated with a full-scale hybrid model. This new system from Delphi pushes the bounds of the mild-hybrid segment with new technology and an even greater environmental impact.
Delphi claims that its new 48-volt system reduces the demand placed on the engine, resulting in up to 10 percent less CO2 emissions. This "intelligent electrification," as Delphi calls it, allows manufacturers to milk a little more performance from their cars without increasing engine sizes too. In fact, the torque in Delphi's sample car—a Honda Civic with a 1.6-liter diesel engine—is boosted by 25 percent.
Because of its low cost and eco-friendly nature, Delphi expects mild hybrids to make up 10 percent of all car sales by 2025, which adds up to 11 million vehicles per year. If its numbers are accurate, this could reduce fuel consumption by a whopping four billion gallons per year.
There is only one well-known mild hybrid left on the market today, the 2016 Buick LaCrosse eAssist Hybrid, and it has a few good deals for those who want to get their hands on one of these models. Qualified buyers can get up to a $1,250 factory rebate or 2.9 percent APR for 48 months with $500 in bonus cash.