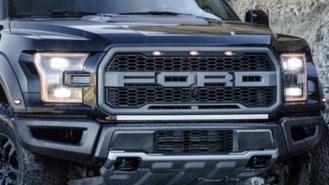 A little less than a decade ago, automakers were taking government bailouts to stay afloat, except Ford. The blue oval instead decided to mortgage everything to drum up some liquid capital and pull through the market crash on its own. Profit-wise, this tactic was brilliant, as it is primed to announce record-breaking pretax earnings later this week. For some reason, however, Wall Street lacks faith in the company's sustainability, and its stock continues to tumble downward despite massive revenue, according to Automotive News.
Analyst, Adam Jonas, told Automotive News that part of Ford's problem is its aggressive move into the realm of shared and self-driving cars. Jonas claims that this bullishness is all too similar to the failures of one-time stalwarts in their industries like Kodak and Blockbuster, who claimed they were working toward the future only to get run out of town by up and comers who developed better tech more quickly (e.g. Netflix, Redbox, and the numerous digital camera manufacturers in the world).
Basically, Jonas explained it as the market saying, "Hey, we've seen this before. This industry is incredibly ripe for disruption. The disruption's probably not going to come from the 100-year-old mechanical legacy." Despite Ford seeing its stock fall 19 percent since January 2015—its lowest closing price in three years—it continues to push new tech, including the almost-totally-unrelated-to-cars app, FordPass, which allows folks to reserve parking, call a personal assistant, and pay for expenses during trips.
Whether or not Ford gets overrun by disruptive innovation from companies like Tesla, Google, and Apple remains to be seen, but the steady downward trend of Ford's stock shows that Wall Street certainly sees this as a good possibility.
Luckily for buyers, the stock market rarely dictates day-to-day operations at dealerships, and Ford continues offering aggressive deals on high-profit vehicles like the F-150 and crossovers like the Explorer and Escape.