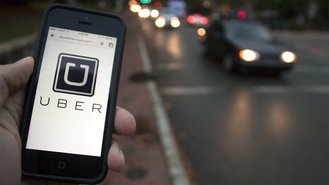 One of the biggest fears of many automakers is the growing popularity of ride-sharing programs, which relieve occasional drivers of the need to buy or rent a car for trips where public transit, bicycling, or walking just doesn't make sense. Deutsche Bank AG's analysts see things a little differently, though.
According to the analysts, automakers are looking at ride sharing from the wrong angle. These financial experts claim that these programs could dramatically lower the number of cars on the road, but sharing rides will assure that these cars are getting used far more heavily than they would sitting in a garage somewhere waiting for the next trip that requires its service. The increased use could result is a vehicle lifespan of just three years—far shorter than the average car now. This will result in fleets having to turn over far quicker than usual, thereby increasing sales.
What's more, this added turnover does not take into consideration the "empty legs" traveling, which is when the car shuttles from one passenger to another. Bloomberg notes that nearly half the miles that Uber drivers put on their cars are "empty leg" miles, and this would only get more significant as ride-sharing becomes more popular.
Not only could this potentially increase sales, it will also shift the way the automotive industry operates as a whole. As it stands now, the industry is very cyclical, relying upon credit and the economy to fuel sales. With increased ride-sharing, it will become more predictable and stable as demand will mostly be based on miles driven.
While ride-sharing is bound to become a huge hit in the coming years, it is still in its infant stages. Here in Vermont (where I reside), we have a ride-sharing program, and it is quite pricey at $15 per month plus $5.50 per hour and $0.30 per mile, or $65 per day. At this rate, you could lease a 2016 Volkswagen Jetta 1.4T S at $139 per month with just over two day's worth of rental fees. You would still need to add in the initial payment of $1,999 and the cost to insure it, but you can see how these programs are still beneficial only to those who almost never drive a car.