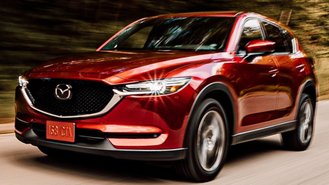 Over 7 months after the arrival of the gasoline-powered 2020 Mazda CX-5, our analysis finds that the diesel variant has yet to go on sale at dealers. With 2020 model year production apparently set to end this month, buyers may be wondering whether or not Mazda has quietly discontinued America's last mainstream diesel SUV.
Mazda's PR team has been unusually cagey about divulging the diesel's status. As of this morning, the brand's response was still "We cannot confirm any details for the CX-5 Diesel at this time." Back in April, the official stance included an added touch of mystery: "with the current state of the world, many things are tentative."
While that doesn't tell us much, a spokesperson did confirm that the issue doesn't have to do with emissions certification. A filing with the California Air Resources Board (PDF) seems to confirm as much. At the moment, the only way to buy the diesel is to choose from one of roughly 30 2019 CX-5 diesels left in stock in the U.S.
Confusingly, a tentative fleet ordering schedule from May indicates 2020 CX-5 production is set to end this month, with 2021 CX-5s estimated to be built in August. Although Mazda declined to confirm the accuracy of the info, this presents the possibility that shoppers may not be able to buy a diesel CX-5 for the 2020 model year.
The vehicle has faced a number of challenges. When it arrived last year, an MSRP of $42,045 made it over $4,100 pricier than the gas version. To make matters worse, an official fuel economy rating of just 29 mpg gave it just a 1 mpg advantage over the standard CX-5. But does it even still have a place in the U.S.?
Last year, GM reversed course by discontinuing diesel versions of the Chevy Equinox and GMC Terrain due to poor demand after initially listing them in order guides. Meanwhile, CX-5s remain available with a choice of two gas mills: a 2.5-liter 4-cylinder making 187 horsepower and a turbocharged option rated at 227 horsepower.
Despite the CX-5 diesel's premium price, dealers have been using steep discounts of up to $10,000 to help spur sales. Meanwhile, a growing field of hybrids offer better fuel economy than ever before. For example, the Toyota RAV4 Hybrid offers 40 mpg while the new 2020 Ford Escape Plug-In was recently rated at 100 MPGe.