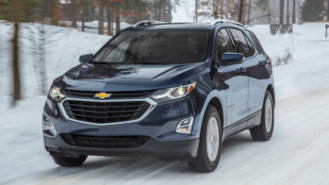 If you're a fan of diesels and need all-wheel-drive capability, you'll soon have to scratch two SUVs off your list. For 2020, order guides reveal that diesel versions of the Chevy Equinox and GMC Terrain will only be offered with front-wheel-drive.
Chevy spokesman Kevin Kelly confirmed the change today, citing "relatively low demand" for the all-wheel-drive option with the 1.6-liter turbodiesel. For the moment, this means shoppers will be limited to a very different (and much more expensive) vehicle: the 2019 Mazda CX-5 diesel.
Due to a difference in strategy, Mazda will only offer the diesel CX-5 in the range-topping Signature trim with all-wheel-drive. In contrast, Chevy offers the diesel Equinox in LT and Premier trims, while the GMC Terrain offers it with SLE and SLT styles.
The lack of an AWD option in the Equinox and Terrain could create a troubling gap in terms of affordability for those who need it.
At $42,045 with destination, the diesel CX-5 starts over $9,500 higher than the lowest-priced Chevy Equinox diesel ($32,495 for the 2019 AWD diesel LT) and more than $7,200 higher than the Terrain ($34,795 for the 2019 AWD SLE).
In addition to offering lower base prices, the Equinox and Terrain feature better fuel economy. With AWD, both get 32 mpg in overall driving. In contrast, the CX-5 is rated at 28 mpg, just 2 mpg more than the gas CX-5 and 4 mpg less than the Equinox and Terrain. Mazda helps make up for that with better output.
The diesel CX-5 makes 168 hp and 290 lb-ft of torque, quite a bit better than the 137 hp with 240 lb-ft produced by GM's 1.6-liter turbodiesel. Still, those in parts of the country with a preference for all-wheel-drive may not like having one less option on the table.
If you're hoping to scoop up an AWD diesel Equinox or Terrain, there's still time. With current sales promotions worth up to 20% off MSRP in the case of the Equinox, shoppers may find it to be one of the better times to buy ahead of next month's Memorial Day holiday.