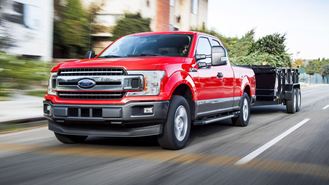 Ford's 3.0-liter Power Stroke diesel engine for the 2018 F-150 returns an EPA-estimated 30 mpg highway, 22 mpg city and 25 mpg combined. According to Ford, the EPA ratings, which are for the two-wheel-drive version, are the best available in a full-size pickup truck. The bad news? The four-wheel-drive model's ratings are downright disappointing, at 20 mpg city, 25 highway, and 22 combined. That's barely any better than the 3.5-liter twin-turbo V6 model.
"Even a few years ago, customers wouldn't have imagined an EPA-estimated rating of 30 mpg highway would be possible in a full-size pickup, but our team of crazy-smart engineers rose to the challenge," said Hau Thai-Tang, Ford executive vice president, product development and purchasing.
The engine, paired with a 10-speed automatic, produces 250 horsepower and a stout 440 pound-feet of torque, which Ford points out as more torque than the 2019 Ram 1500 with a V8 engine. Towing capacity is 11,400 pounds while payload capacity is 1,940 pounds for retail applications and 2,020 pounds for XL and XLT fleet trucks.
Diesel engines aren't new to heavy-duty trucks. However, the technology is spreading to light-duty trucks such as the F-150 and Ram 1500, which is offering the EcoDeisel engine. The 3.0-liter Power Stroke in the F-150 is the first diesel ever offered in Ford's pickup truck.
The 2018 Ford F-150 with the 3.0-liter diesel engine begin shipping to dealerships beginning in May.