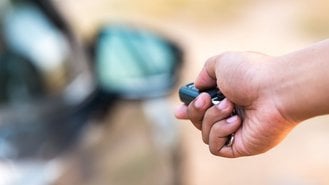 Many of us—myself included—have become accustomed to our keyless entry and start systems. It's surprising how convenient it is not to have to root through your pocket or bag to dig out your key. Unfortunately, a report from Tech Insider claims that this simple convenience could make your car a prime candidate for theft.
The report stems from research performed by the German automobile club ADAC, which found that a simple "amplifier hack" can allow thieves to hop in your car and drive away unnoticed. The research claims that thieves can use a $225 machine to amplify the radio signal between your car and the key fob, making its range go from just a few feet to up to 300 feet. With the signal amplified, the thief can simply open your door, press the "Start" button and drive away.
According to ADAC, it has successfully broken into 24 different vehicles, including the Toyota RAV4, Kia Optima, Audi A3, A4 and A6, as well as the Chevy Volt.
Cars currently have no way to prevent this hack, as most will continue to run even if the key is out of range. The only real preventative measure is for automakers to build-in a feature that shuts the engine down once the key is beyond the amplifier's range. Until automakers find a workaround, however, there are bags for sale that block the RFID signal and cost just $30. That seems like a reasonable price for a little peace of mind.
If you are super paranoid, you can always opt for a car that uses a traditional key and avoid this hack altogether. In fact, there are great deals on simple rigs that lack these hackable features, like the massive $3,500 rebate this month on the 2015 Mitsubishi Mirage. Alternatively, qualified buyers can choose 0 percent APR for up to 84 months plus a $1,500 finance bonus.