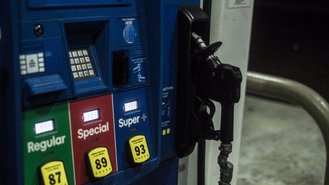 It's a common misconception that premium gas—usually 91 octane or higher—is better for engines that are designed to run on regular gas. In fact, if an owner's manual doesn't specify premium fuel, it offers no tangible benefits for its extra cost. And a new AAA report reports that U.S. drivers waste $2.1 billion each year on high-octane gas their cars simply don't need.
Only about 16 percent of the cars on the road actually require premium, while another 10 percent needs 89 octane mid-grade. Subtract the 4 percent of alternative-fuel cars, and that means 70 percent of cars on the road are perfectly happy guzzling regular.
In some cases, cars are designed to run on whichever grade of gasoline a driver uses. When you fill a 2016 Mazda CX-9 with premium, for instance, it's rated at 250 horsepower. If the engine senses regular 87 octane, the car automatically adjusts ignition and drops output to 227 ponies. The switch reduces performance, but does no damage whatsoever to the engine.
What matters is the octane your owner's manual requires or recommends. If your car requires premium or mid-grade, play it safe and use it as frequently as possible—the occasional shot of regular won't hurt. At the lower "recommended" threshold, you can still feel free to use regular without causing any damage.
What does make a difference is where you buy your gas. AAA previously found that the "Top Tier" gasoline sold by stations like Shell and Mobil has more detergents that reduce buildup and can potentially lead to longer, cleaner engine life.
Despite requiring premium fuel, the 2016 BMW 340 does have some good deals to help you save money. For example, qualified buyers can get this Bimmer on a 36-month lease for just $409 per month with $4,334 due at signing.