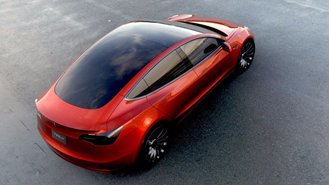 The Tesla Model 3 appears to be on track to launch on time, good news for the hundreds of thousands of customers who have placed deposits for the electric carmaker's newest model.
But this is coming with a catch: the first Model 3s won't be offered with a long list of options. Or even colors. According to Reuters, via Autoblog, the first run of Model 3s set to begin production in July will be available in just two colors and two different wheel options. No other extras will be offered, CEO Elon Musk said Tuesday to investors.
The simple configurations on early cars is likely to reduce complications in manufacturing, ensuring the first cars off the line are free of some of the defects that plagued the first Model S and Model X cars. Musk said more options, including all-wheel drive and different battery sizes, would be offered but did not give a timeline.
The Tesla Model 3 debuted last year in pre-production form to much fanfare. It's estimated Tesla has received at least 400,000 deposits of $1,000 to get on the wait list for the car. The first customers in line should receive their vehicles by the end of 2017, with a starting price claimed to be around $35,000 before state and federal electric car rebates.
The Model 3 is a critical launch for Tesla, with much of the company's future, as well as the future of mainstream electric cars, tied to its success. While it's probably wise that Tesla is taking a conservative approach to early adopters, those same folks looking for the full Tesla experience may be disappointed.