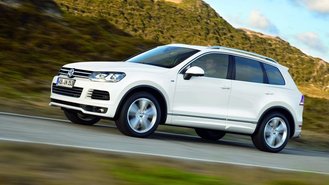 Volkswagen's diesel emissions scandal, which started two years ago, still hasn't come to an end, but there's finally a little bit of good news for some owners. Recently, the California Air Resources Board (CARB) and EPA approved an emissions compliant modification for certain Volkswagen, Audi, and Porsche 3.0-liter diesel SUVs.
The fix, which is a part of a $1.2 billion settlement that received approval from a federal judge earlier this year, affects approximately 38,000 Generation 2.1 and Generation 2.2 SUVs. The modification for Generation 2.1 SUVs involves both software and hardware updates, while Generation 2.2 SUVs will only receive a software update.
Vehicles classified as Generation 2.1 SUVs include the 2013 to 2014 VW Touareg, 2013 to 2014 Porsche Cayenne, and 2015 Audi Q7. The 2015 to 2016 VW Touareg and 2015 to 2016 Porsche Cayenne are classified as Generation 2.2 SUVs. VW is working with the regulators to get a modification approved for its remaining 3.0-liter diesel vehicles.
The automakers will contact owners about the fix, with dealers updating the software and hardware in the vehicles. The software modifications will be offered free of charge, and the companies are including a free extended warranty as well. Owners who obtain the fixes will also receive between $7,039 and $16,114, according the Los Angeles Times. Once these SUVs are fixed, the automaker will have either repaired or bought back the majority of cheating diesels in the United States.
This is a step in the right direction for VW in resolving its embarrassing diesel scandal, which revealed roughly 550,000 vehicles in the US and about 11 million globally were fitted with a cheat device to skirt emission standards. The "defeat device" allowed the automobiles to produce excellent figures under testing procedures, but once on the road the device turned off, permitting the vehicles to emit more harmful pollutants in the air.