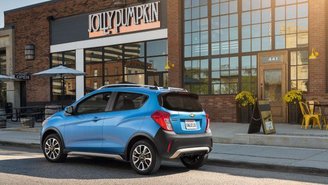 Owning a crossover usually means sacrificing fuel economy for ride height and tough looks. But in the case of the new, high-riding Chevrolet Spark Activ, the sacrifice is pretty small.
According to the EPA, the version with a continuously variable transmission returns 30 miles per gallon in the city and 33 mpg combined. Going with the Activ's available five-speed manual transmission drops the city rating to 29 and the combined rating falls to 32 mpg. Regardless of gearbox, the Spark Activ returns 37 mpg on the highway. These figures are a perfect match with Chevy's estimates from the Spark Activ's LA Auto Show debut.
While those figures are slightly lower than the standard Spark – the normal hatchback returns 38 mpg regardless of transmission, while the five-speed manual model bests the Activ by one mpg in the city and combined ratings.
The Spark Activ is arguably the smallest crossover on the US market, dwarfed even by the tiny Mazda CX-3, which is several hundred pounds heavier and over a foot longer. In many ways, the Spark Activ takes after the latest trend in Europe, which is jacked-up city cars. Small car specialists Fiat and Suzuki both sell high-riding city cars – the Panda 4x4 and Swift 4x4 – to European drivers with some success. Since this is the first in what is essentially a new segment for the US market, that makes it difficult to compare its fuel economy with the competition.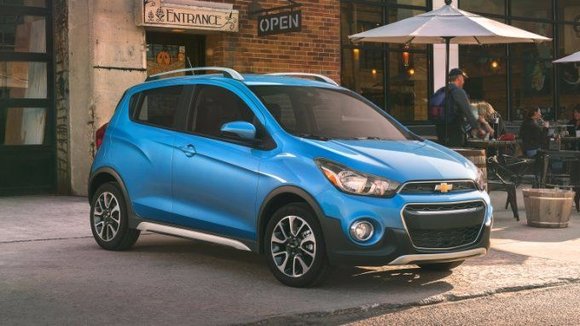 It should come as no surprise that the Spark Activ is more economical than larger rivals, like the CX-3 and Honda HR-V. But considering how much smaller it is, we expected the Activ to perform better. Its highway fuel economy is just two better than a front-drive CX-3 and four better than the HR-V. And in the city, the CVT-equipped Activ is only one better than the CX-3 and two points above the HR-V. In other words, you're getting a much smaller vehicle without a dramatic increase in fuel efficiency.
Still, if you want the smallest crossover around, the Spark Activ should be an affordable and efficient choice.