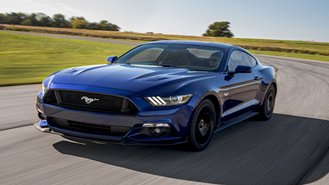 Europe's auto-safety authority has announced that the Ford Mustang is too much of a wild horse for its liking.
The European New Car Assessment Program (Euro NCAP) slapped a meager two-star rating (out of five) on the current Mustang hardtop, citing its lack of modern safety-sensor technology. The crash testers also raised concerns over the airbags to provide too little cushioning during an impact and issues with child booster seats.
Euro NCAP results are based on grades in four different categories: adult occupant, child occupant, pedestrian, and safety assist. The Mustang scored 72 percent on adult occupant protection, good for an "Adequate." Pedestrian protection was almost as good, at 64 percent. The child occupant score slipped to 32 percent and the safety assist rating was a dismal 16 percent.
Before you run outside to throw a 'For Sale' sign on your new Mustang GT out of sheer self-preservation, keep in mind that in the Euro NCAP's grading system, the Mustang's low safety assist score – calculated using a checklist of modern features such as automatic emergency braking or lane-keeping systems – weighs heavily on the overall rating. Cars that do well in Euro NCAP testing, like the five-star Volvo S90, tend to be crammed with every bit of available modern safety gear.
In contrast, the Insurance Institute for Highway Safety – America's version of the Euro NCAP – gives the Mustang coupe consistently good marks for occupant protection during a crash, although it also notes the lack of high-tech safety features.
Ford will add automatic emergency braking, among other safety tech, as part of its upcoming Mustang refresh, due to hit dealers later this year. The Euro NCAP results can be found here, and the complementary IIHS report here.