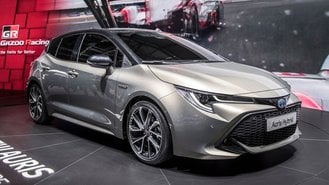 At this year's Geneva Motor Show, Toyota unveiled an updated Auris, a European-market vehicle that American consumers know as the Corolla iM. Like any update, the new Auris receives updated styling. Toyota is also focusing on offering two hybrid powertrains in Europe. But despite these changes, it's not clear if or when the Auris will cross the pond as an updated Corolla iM.
In Europe, Toyota will only offer one conventional internal-combustion engine in the 2019 Auris – a turbocharged 1.2-liter inline-4. A 1.8-liter gas engine paired with an electric motor produces 122 horsepower. We wouldn't count on seeing either of these engines in a US-market Corolla iM, though. They simply don't offer enough grunt.
Instead, we're likely to see the new 2.0-liter hybrid powertrain that produces 180 hp. Toyota says the 2.0-liter engine will offer an "energized" and fun-to-drive experience, although additional particulars aren't available.
The new Auris rides on Toyota's TNGA platform, which is shared with the Camry and Prius. The architecture gives the new Corolla a lower stance, which helps provide a wider appearance while also retaining interior cabin space.
While it's unclear if Toyota will bring the Auris over to the US as a new Corolla iM, the TNGA platform and hybrid powertrains should give us a solid hint of what to expect when the Japanese automaker finally updates its Corolla sedan later this year.