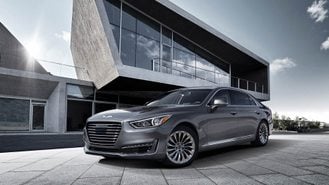 Genesis is doing a 360-degree turn on how and where it wants to sell its upscale luxury vehicles. At the beginning of the year, Hyundai announced plans to open a slew of Genesis-only dealerships across the country. Now, Genesis is going back on that idea by giving all existing Hyundai dealers the opportunity to sell Genesis-brand vehicles, reports Automotive News.

Under the initial plan that was announced in January, Genesis was going to roll out with 100 dealers in luxury-oriented urban locations in 48 markets. Under the primary strategy, the majority of Hyundai dealers would have missed out on the opportunity to sell cars from Genesis.

More recently, a Genesis spokesman told Auto News that plans have changed, as the brand is now looking to expand to more than 48 markets and have more than 100 stores. The spokesperson also told the outlet that 2019 Genesis models "will only be wholesaled to newly franchised Genesis retailers."

Auto News obtained a summary of Hyundai's new dealership plans for the Genesis brand, as well. Under the new blueprint, approximately 350 "elite-level" dealers that were already carrying the G80 and G90 sedans will be able to continue selling those vehicles. But they'll have to sign a new franchise agreement, which will be sent out later this month, if they choose to do so. Dealerships that want to sell cars from Genesis will still be required to have separate stores and service areas for the luxury company.

Hopefully, Genesis sticks to the new plan, as dealers have been perplexed and upset about the brand's strategy to sell its vehicles in the U.S. It's probably in the company's best interests to get everything together before launching the new G70 sedan this summer.