The Clean Vehicle Rebate Project (CVRP) has been a popular incentive for boosting the affordability of alternative-fuel cars here in California. Buyers and lessees of electric cars, plug-in hybrids and hydrogen vehicles benefit from a rebate that they can apply for after purchase. In rare cases, the amount ranges up to $7,000 based on income.
However, California Air Resources Board (CARB) documents reveal the group is considering switching to a point-of-sale rebate using a prequalification process. In fact, we've learned the group plans on testing a new pilot program in San Diego later this year to explore its effectiveness.
An upfront rebate could have big implications for how shoppers perceive the premium associated with EVs. At the point of purchase, dealers could even become free to boost interest by selling at lower upfront prices.
Here's a look at what's in store, what the system might look like and how it could affect you.
Why Prequalification?
As a concept, a point-of-sale rebate is nothing new. CARB is actually required to explore its viability under Senate Bill 1275. Currently, consumers apply for the CVRP through the program website and are mailed a check, but only after buying or leasing their vehicle. Interestingly, documents from CARB indicate that only about 70% of purchasers are taking advantage of the incentive, at least when it comes to plug-in hybrids and EVs.
According to a CARB funding proposal for the 2015-2016 fiscal year (PDF), the group expected that a point-of-sale model would probably increase participation. However, it held off on recommending the change in part because of a concern it might encourage purchases by buyers who would have bought anyway even without the incentive.
Although one could argue the goal of the program is to simply get more eligible vehicles on the road, it appears the concern was rooted in the reality that funding was limited and that the program needed to be cost-effective. Around the same time, the group was also in the midst of proposing a major change involving income caps and extra support for lower-income applicants.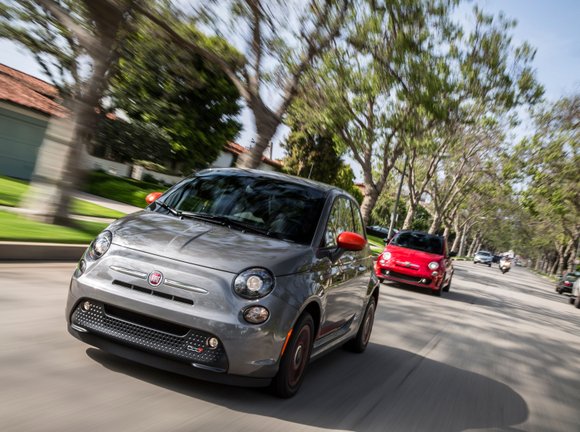 The funding proposal for 2016-2017 (PDF) explored the subject further. The group believed prequalification had become a necessity, stating "there needs to be a pre-qualification element to any point-of-sale redesign of CVRP in order to allow for verification of income-based participation requirements." It added, "Lack of such safeguards would encourage fraud." The group also expected that an upfront discount would lower the initial transaction cost for lower-income applicants.
Will an upfront discount encourage sales? It certainly seems likely, but it'll work a bit differently from the way the program does today. CARB has been encouraging public input via Air Quality Improvement Program (AQIP) workgroups to figure out an effective process.
What It Might Look Like
Although CARB has not yet arrived at a formally approved process, a preliminary draft proposal (PDF) gives us a sense of what the new system might look like. If you were to divide it into steps, it looks something like this.
Step 1: The shopper submits an application and supporting documents via the program website in order to get prequalified by the program administrator, the Center for Sustainable Energy (CSE).
Step 2: The CSE would then review and send an approval email. There may end up being an expiration date, but it's unclear what kind of timeframe that would be.
Step 3: At that point, the shopper would contact their local dealer to buy or lease an eligible vehicle. The dealer would then confirm eligibility via the program website and complete the transaction at the reduced price.
Step 4: After the purchase, the dealer would then submit any required paperwork to the CSE and be reimbursed directly.
We'll reiterate that the group's plans have not yet been finalized. If approved, the CSE will undoubtedly need time to implement the process.
That said, a pilot version of the program is in the works and coming sooner than you might think.
Test In The Works
According to CARB spokesperson Pamela Diaz, the group hopes to launch a pilot program in the San Diego area later this year. There's no official word yet on a start date or how long it will run.
When asked why the group chose San Diego, Ms. Diaz replied that the area benefits from "a representative selection of dealers across all eligible OEMs," as well as the potential to reach applicants from all income levels. That's also where the CSE is based, which Ms. Diaz said "would allow for closer engagement with the first dealers to participate in the program."
With this strategy, the group hopes to test how to efficiently handle a likely increase in applications. If it merits a statewide roll-out, Ms. Diaz said the group would initiate that process.
Our Take
From a shopping standpoint, there could be advantages in reducing the upfront cost of buying an EV. In addition, the CVRP could potentially be better used by dealers as a way to advertise lower prices. To a limited degree, some are already doing this.
One Southern California FIAT dealer touts "$0 out of pocket" on the FIAT 500e, famously offering a $49/month lease last year. But what that really means is that shoppers still have to "front" $2,500, which will ideally be offset later by the CVRP. Could we see more of these types of hard-to-ignore deals? It's certainly possible.
If that ends up being the case, shoppers will still need to read any fine print carefully. For example, the above deal also factored in a $1,000 conquest bonus, an incentive that only people leasing a competing vehicle would be eligible for.
Deals on plug-ins and other alternative-fuel vehicles continue to be a major selling point. One automaker is even offering a $15,000 discount this month based on our monthly green car deal analysis. Given how complex the prospect of buying a car (let alone an EV) already is, we're hopeful of progress toward making the process easier.