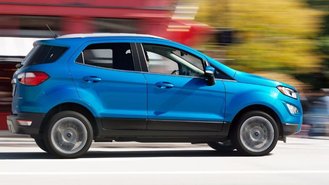 While drivers in the U.S. patiently wait for the tiny Ford EcoSport to arrive in the American market, drivers in Europe have just received a heavily facelifted version of the compact crossover. And before you write off this piece of news as being inconsequential, the updated model has already appeared on Ford's US consumer page with a starting price of $20,990.
The most obvious change for the new EcoSport is the crossover's exterior, which ditches its funky styling for a more grown-up look. Most notably, there's a new front end with a sculpted hood, a trapezoidal grille, and angular headlights that also house LED daytime running lights. Moving towards the bottom of the front end, triangular fog lights have replaced the round ones on the previous model, while the chrome lip is now blacked out. These changes bring the EcoSport, which is on the older side, more in line with Ford's newer products on the visual front.
The rear end has also been heavily revised for what the automaker claims is a "cleaner, more sculpted appearance." The back still resembles a box, but the taillights, spoiler, and bumper have been refreshed. The changes have taken the EcoSport from looking like an odd crossover to having the appearance of a grown-up compact SUV, which is a big step forward.
Underneath the new body, the crossover is powered by a new 1.5-liter EcoBlue diesel engine that cranks out roughly 123 horsepower and 221 pound-feet of torque. While the diesel engine is a great match for the crossover, US customers can get either a 1.0-liter, turbocharged three-cylinder or a 2.0-liter, naturally aspirated four-cylinder. Ford's Intelligent All-Wheel Drive is also available with the larger engine.
That starting price is quite fair for this hotly contested segment. Sub-compact crossovers are all the rage and Ford is just now getting in when most of its rivals are already fielding competitors. At $20,990, the base EcoSport sits neatly between the most affordable, manual-trans-equipped Honda HR-V at $20,510 and the $21,050 Mazda CX-3 Sport. The Ford easily undercuts the pricey, front-drive-only Toyota C-HR, which starts at $23,495.