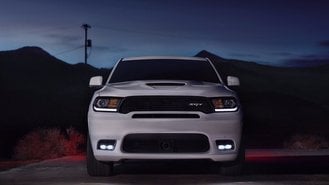 FCA's Dodge brand has announced styling changes to the 2018 Durango R/T and a new upgrade package for the 2018 Durango GT, while the Ram brand has unveiled a new top-tier trim for 2018 Ram 1500, 2500, and 3500 models.
For 2018, Durango R/T models will come with the same front fascia, hood, lower valance, and LED fog lights as the 2018 Durango SRT, while 2018 Durango GT models equipped with either the Blacktop or Brass Monkey appearance packages will come with the Durango SRT's performance hood.
Meanwhile, Ram is taking a swing at the high-end pickup segment by unveiling its most luxurious trim level yet – the Limited Tungsten Edition. Based on the Limited model and available on 1500, 2500, and 3500 models, the interior boasts a suede headliner, white leather seating with deep blue piping, a blue, leather-trimmed console, dark blue carpeting, and real wood trim. Exterior enhancements include large R-A-M lettering across the tailgate and tungsten chrome grille, along with unique satin-finished alloy wheels. 1500 models will also receive a sport hood and air suspension.
Dealers are currently taking orders for the new Durango models. The 2018 Durango R/T and GT, as well as the Tungsten Edition Ram models, will begin arriving at dealerships during the third quarter of 2017.