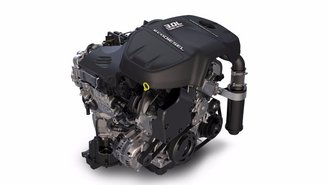 Fiat Chrysler Automobiles is the latest company to implement a diesel emissions fix.
FCA announced last week it would implement a software fix to roughly 104,000 2014 to 2016 Ram 1500 and Jeep Grand Cherokee models equipped with the 3.0-liter EcoDiesel V6 engine that was under scrutiny from the EPA and California Air Resources Board over allegations the vehicles' emissions were higher than reported by the company.
The software fix, which re-calibrates the emissions system, will also be applied to 2017 model year EcoDiesel models so they can finally get necessary certification to be put on sale.
Questions over diesel emissions in passenger vehicles has increased since the 2015 Volkswagen diesel emissions scandal, where nearly a half million vehicles in the US were deemed to emit exponentially more nitrous oxide gases than legal. VW is spending more than $15 billion in fines to the EPA and CARB and fixes and buybacks. And earlier today, the US Department of Justice filed a civil lawsuit against FCA alleging it used defeat devices in its diesels.
At the very least, FCA's fix appears to be less painful for current EcoDiesel owners. However, the pending lawsuit could jeopardize the future of FCA's 3.0-liter fuel-sipper.