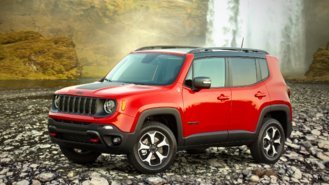 Fiat Chrysler Automobiles (FCA) has confirmed that a plug-in hybrid variant of the Jeep Renegade will come out in 2020, reports Motor Authority. The Renegade plug-in hybrid will be built alongside the regular Renegade and Fiat 500X at a plant in Melfi, Italy, which is currently being prepped to account for the new electrified model. Prototypes of the vehicle could be out testing as soon as 2019, while an official launch is currently penciled in for 2020.
The Renegade plug-in hybrid will be FCA's second PHEV after the Chrysler Pacifica. It'll also become the fourth electrified model under the automaker's wide umbrella, which includes the Pacifica plug-in hybrid, Ram 1500 with the eTorque mild hybrid system, and Fiat 500e.
While details on what kind of plug-in hybrid setup the Renegade would get are scarce, Motor Authority believes that the system could borrow a lot of components from the electrified version of the Pacifica, which sounds reasonable. The decision to offer an electrified model for the Renegade family also makes sense, as countries like China and Europe have come out with stricter fuel economy and emissions regulations.
The Renegade won't be the last vehicle to be electrified, as Jeep's former CEO, who is now at the head of FCA, Mike Manley, stated that a plug-in hybrid version of the Wrangler will also come out in 2020. The plan to add more electrified vehicles fits under FCA's overall plan of having 12 different electrified powertrains by 2022. Globally, the automaker plans to have 30 models that are equipped with either a mild-hybrid, full-hybrid, or fully-electric setup by the same date.
Jeep recently gave the Renegade a minor face lift for the 2019 model year, as the subcompact received a new turbocharged 1.3-liter four-cylinder engine that replaces the old 1.4-liter turbocharged inline-four. The new engine produces 177 horsepower and 200 pound-feet of torque, which is an increase of 17 hp and 16 lb-ft of torque over the old motor.
While the Renegade plug-in hybrid would technically compete against cars like the Toyota Prius Prime, we don't think the average consumer would cross shop the two. Instead, we see options like the Kia Niro Plug-In Hybrid and Ford C-Max Energi being the main challengers. There aren't a lot of subcompact SUVs on the market at the moment that have a plug-in hybrid powertrain, which means that if Jeep sticks to its timeline, the Renegade PHEV could create a comfortable spot for itself in the market.